Have you ever wondered what semi-precious, ST,  rhodium, .925  means?  These are just a few of the terms which you will often see when purchasing jewellery.
My History with Jewellery: I first stumbled upon these type of words way back in the 80's when growing up. My parents owned a wholesale business on Berwick St. London, selling all types of costume jewellery, from Swarovski, glass and metal beads to hardware for customers to make up their own pieces to sell.
The fun part was, as a baby, I actually used to play in my Father's warehouse/factory and learnt how to walk there!  I even ate the tiny beads that had fallen to the floor.  This would nowadays, probably send any parent into a meltdown and a trip to A&E!!  However, my parents carried on with their day, slogging away day after day whilst I enjoyed my bead treats!
To this day, the business is still running and has gone from strength to strength and is a huge success.  Please have a browse on www.internationalcraft.com.
I grew up hearing many terms used in the jewellery business, from various charm sizes, the vast choice of beads, clasps and chain types plus the fact you can make earrings and necklaces from scratch!!  This was music to my ears and so I began to make earrings to sell at school!! I did pretty well and made a small profit!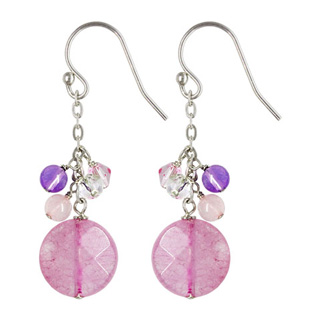 Crystal Earring jewellery making kit



Whilst industry changes were taking place over the years including manufacturer and import export levies etc, what became apparent is that jewellery is something that will never fade, never go out of fashion and will always remain as one of the top ten gifts.  Yes, it is a very competitive market however with courage, support and understanding of the jewellery world, Blooming Charms will hopefully have a chance to become part of this market with its personalised handcrafted jewellery.
prince of wales chain
It is easy for designers to forget that not all non-jewellers are familiar with the terms we use, so we would like to help make it easier.  Here are some of the terms which you may find within our website:
ST – Sterling Silver
Sterling –  The highest standard of silver, i.e., 925 parts of silver to 75 parts of another metal.
Semi-Precious – a semi-precious stone is one that is used for making jewellery but is not extremely valuable i.e. amethyst, turquoise
Rhodium – sterling silver that is polished and dipped in rhodium giving it a bright finish and making the sterling silver more durable and adds more lustre.
.925 – A standard sign used to mark sterling silver, the meaning of the stamp is that the silver content in the piece is 92.5% (i.e., the remaining 7.5% is comprised of other elements). Our Blooming Charms jewellery come with a teeny tiny stamp.
Gemstones – Each gemstone is unique with a special colour, birthplace and story.  Gemstones come in many different colours and are gathered from all corners of the world possessing a unique creation of beautiful colour. Blooming Charms is proud to be able to offer gemstones such as peridot, topaz, ruby, garnet and others as unique birthstones.
Bezel – Setting for our gem/birthstones
Filigree – Thin metal wire that is twisted into delicate lacy patterns.
Prince of Wales chain –  named after the Bare Knuckle Boxer, Jim Belcher, who was Champion of All England from 1800 to 1805. The chain also known as a Rolo (Italian for round) chain is made from a D-shaped wire and is cut and shaped into individual round or oval links which are then interlocked together.  This chain resembles a rope and is extremely strong due to the additional connectivity between chain links.
If you come across any other terms you are not familiar with, please feel free to let us know so we can add them to our list!